Ready to Become A Certified Handwriting Expert?
Enroll now into the International
Certification Level Handwriting Analysis Home Study Course
Yes! Enroll me now. I want to get instant access to the International Home Study Course today and start learning today through the 17 module online training center.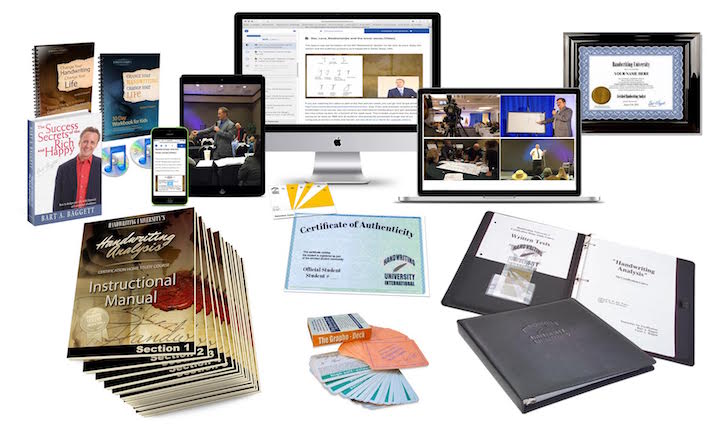 Yes! Give me access to the brand new totally updated Video, Audio, and interative website which contains very latest certification level seminar training material.
Yes! I realize this includes the actual texbook and 21 tests shipped to my door and 100% instant online access.

I want to see my name on an official "Certification" which I can hang on my wall for years to come upon graduattion.
Yes! Give me the ability to download all 24+ hours of audio and video content from the training site onto my computer.
Also, send me the videos on a 16 GB flash drive, so I can watch and learn anywhere I go (without internet).
Yes! Give me instant access to the 2021 online training area which features brand new videos, quizzes, and course updates which are not on the old fashion DVDs.

Yes! I realize I have an iron-clad money-back no questions-asked guarantee. Let me check it out risk-free!
Yes! I understand the self-study course does not include a one-on-one mentor or personal tutor. I have the option of having one assigned if I choose the "with mentoring option" shown on this page below for about $1200 more which includes up to twelve months of personal tutoring ($100 or month more... great deal.)
Guarantee you pass your final exam with the help of an authorized mentor.
International Handwriting Analysis Certification Home Study Course USA


International Level Handwriting Analysis & Psychology Certification Training
We now require an application be submitted with references before you can get enrolled into the Certification Level Home Study Course. Please watch the detailed overview of the current tuition and mentoring options on the next page.
Option One: Self Study
Standard
Certification Home Study Course

$2000-$3500 USD depending on how much tutoring you choose to have with your program.
(This includes everything you need to the knowledge to pass your certification test and includes instant access to the 2021 online course and material shipped to your door.)
Want Some Personal Tutoring & Get Personal Life Coaching, too?
We now have Authorized Trainers worldwide who are standing by to be your personal guide through the entire curriculum and even help you prepare for your final exam.
You choose your Authorized Mentor from our Directory of Authorized Mentors once you are enrolled or we will recommend one based on your native language, learning style, and location.

Certification Course with Private Mentoring $2700 USD
Option Two:
Certification Home Study Course
Private Tutoring.


$2000-$3500 USD depending on how much tutoring you choose to have with your program.

You get 6-12 months of live zoom/skype/ telephone tutoring. Most teachers recommend 30 minutes per week for 6 months. Our faculty commitment is not based on time... it's based on the result of getting your certified!

Financed.
The entire Home Study Course and personal coaching financed for up to 6 Months




Call our India or USA office to discuss financing.
When you click on the order button, you will be transferred to our
secure order page where you can pay with Paypal, Amex, MC or Visa: