Order 100% Risk Free. Not only is our shopping cart secure, but all our products carry a FULL ONE YEAR MONEY BACK GUARANTEE! Feel secure ordering from us.

Call 1-310-684-3489 for customer service or to place your order via telephone. Indian clients call +91 974 501 1322

"I find your products to be of top, top quality. I wish everyone did business your way. Thanks for the great courses! I've been thrilled with everything I've purchased from you!"
Introductory Handwriting Analysis Training via Email

Handwriting University's newsletter is free. Remember to subscribe to the newsletter and a weekly video or article in your email in box.100% opt-in & spam free.

https://handwritinguniversity.com/newsletters/






Level 101

Handwriting Starter Kit.

(Click here for full product description and
view video introduction here)

All new and revised

Handwriting Analysis 101 Online Training in Handwriting Analysis and Transformation


Learn handwriting analysis from your computer via our new membership site
The entire 101 book (PDF) and shipped to your door.
10 video streaming seminar lessons
Downloadable emotional gauge
101 audio book (3 hours)
Digital version of the Grapho-Deck and shipped to your door.

PRICE: Price. $297 US dollars.

*If you are India, you can get this course along with zoom instruction direct from an Authorized Trainer. The prices are less than in the USA and include personalized instruction.

Level 201

Online Trait Dictionary

Level 201 Online Interactive Trait Dictionary
(Video / Audio / Articles)

99 Traits with full audio descriptions and graphical examples (with bonus videos)

Just Some of the Traits covered: aggressiveness, analytical thinker, blind persistence, blunt / frankness, cautious, defiance, deliberateness, desire for attention, desire for culture, desire for responsibility, desire to be different, determination, diplomacy, dominant, domineering, dreamer, dual personality, enthusiasm, exaggeration, exclusiveness, fear of intimacy, fear of success, fluidity of thought, irritability, jealousy, low self-esteem, loyalty, narrow minded, paranoia, pathological liar, perfectionist, persistence, philosophically closed, procrastination resentment / anger, sarcasm, self-confidence / ego, self-conscious self-control, sense of humor, sensitive to criticism, sexual imagination, shallow thinker, strong physical drive, stubborn, talkative, teenage y, temper, willpower, and so much more (all emotional slants in handwriting are covered).

Level 301

Standard Certification Level Course. Certificate & Private Mentoring.

This is the new online course with some learning tools/ textbooks shipped to your door.

If you own level 101 or 201 and you are ready to upgrade, please get instant access to the entire online certification course. All students get the textbook shipped to your door and instant online access inside the new completely revised video interactive online training.

Full Standard Certification Home Study Course (New students) Self-Study.

Special Price includes all of our most essential handwriting analysis courses and prepares you for certification and a career in this field.

(Click here for full product description and read all about it. Also view detailed photographs of program)


Add a Mentor for just $1200 more and get one on one tutoring.

We will assign you a personal mentor who will guid you through all modules and help you get prepared for the final exam.

For Graduates

Professional Marketing Trianing for Graduates and Authorized Mentors


Level 401 (Marketing for Professionals)




Option One: 401 Marketing Course & How to Become a Highly Paid Hiring Consultant

How To Make $100 Per Hour Analyzing Handwriting Marketing System included the 300+ page 3 Ring Binder of marketing tools, flyers, spreadsheets, and instructions. It also included full access to the Grapho-Web2.0 online written report generator and 5 Audio CDs and the two new modules shown at the left which help you become a professional speaker and consultant.

Retail $2799 instant online access. This entire course free when you become an Authorized Mentor


Read about the Handwriting Marketing System in detail here, online.

---

Level 501

Mastery Certification Course

Did you know there is a 10 payment option if you are also part of the Marketing Mastermind community and desire to become an Authorized Trainer in the next few years.

This course is the latest scholarly information relating to all kinds of "advanced trait stacking" which will expand your knowledge far beyond the basic traits and basic personality profiles. Because this course contains hard-to-find traits, controversial techniques, and even cutting edge "research" regarding health, mental fitness, and career profiling, this course is only for sale to "certified students" or students who are in the final stages of getting their "certification." This is course is also a necessary pre-requisite to become an Authorized Trainer for Handwriting University.

This course will fill in the gaps of knowledge, clear up any confusion, and explain in vivid detail any expectations and errors you might have been making using basic graphology principles. The concepts and strategies of stacking traits is so powerful that you will wonder how you ever analyzed writing without it.

20 + hours of seminar video! 26 Videos in all on 11 DVDS. Only the audio of this course is online. All the videos and text books are shipped on DVD.
Price: $2999.
Read the full product description here...
Now, here are some of our best selling programs sold separately.
So, if you have any questions, just call our office and we will
configure a program just for you. 1-310 684-3489 / 1-800-398-2278
Private Consulting


One-On-One Live Telephone consultation with Bart Baggett or a Faculty
(Career, Business, Personal, or Marketing.)
Now you can have one-on-one "private" coaching sessions with Bart Baggett. Sessions are 55 minute in length and recorded in mp3 format for you to listen to afterwards. Prices range from $650 a sessison to $3000
To hire an authorized trainer in your own country, visit www.handwritinganalysis.org. Rates Vary.



Books




Books

Book – Success Secrets of the Rich and Happy by Bart Baggett --


New! Bart Baggett's latest book reveals the psychological "Success Secrets of the Rich and Happy." It is available now in INSTANT DOWNLOAD from anywhere in the world with no shipping.
This will be the most important book you read all year! Only $19.99 and includes a free audio bonus. Over 435 pages of NLP, handwriting, psychology, financial strategy, and so much more. Because this is an Instant download, you will be asked to check out on a special secure page.

For more details, read all about it here.

You can order the paperback, the PDF version, the Amazon Kindle Version, or soon the Audio Book. If you order the PDF version, you can be reading it in the next 10 minutes (print it out or read it on-line).

(PDF download file )


(Kindle format Sold Via Amazon.com)

Flash Cards in Handwriting

Grapho-Deck Handwriting Flash Cards

51 Easy-to-use instructional flash cards with separate personality traits illustrated on each card. Fun, simple, accurate and portable. This is Bart Baggett's all time best seller! Each deck of cards comes with a 40+ page instruction manual as a special bonus! This is a perfect companion to the Change Your Life Workbooks or the Success Secrets of the Rich and Happy.
(Click here for full product description)

PRICE: $15.95 each or 2 decks for $22.00
(See option when you check-out) (plus s/h)

Short Book on Success and Goal Achievement

Audio Book Included as a free bonus for all book buyers on this site.

"What if an author provided the missing piece to make the law of attraction work for you? This book brilliantly guides the reader through the art of asking the right questions in every area of your life. Author, Bart Baggett provides questions that re-frame your thinking about your finances, career, relationships and spirituality. The framework he has developed is backed by brain science over the past 60 years, as his references show.

If you like books by Wayne Dyer, Louise Hays and Esther and Jerry Hicks, then this book is for you."

By Jamie Cohen (5 Stars Review)

The Magic Question: How to Get What You Want in Half the Time

Amazon #1 Best Seller

This is a scientific based success methodology distilled down into its one easy and effective method. This simple method utilized your own self-talk to create a more powerful and effective internal dialogue.

The Magic Question might sound too good to be true, but it's based on sound brain science and advanced linguistics. Best of all... it's easy to read and filled with fun stories. It has nothing to do with more effort, visualization, or even goal-setting, but can serve to powerfully enhance any of those things. It's about shifting your mind in the direction of happiness, success, and optimism... using the power of one question a day.

PRICE: $2.99 for both the PDF file and Full Audio Book


--TABLE OF CONTENTS--
Audiobook Download (Free Gift for Buyers) 2 Hours. Read by the Author.
Introduction
Chapter 1: Asking Questions
Chapter 2: Test Your Brain
Chapter 3: The Discovery
Chapter 4: Neuro-Science and Neuroplasticity
Chapter 5: Thoughts and Memories
Chapter 6: R.A.S. (Reticular Activating System)
Chapter 7: The Jimmy Metaphor
Chapter 8: The Happiness Radar
Chapter 9: How I Use the Magic Question
Chapter 10: Wealth and Goal Setting
Chapter 11: The Linguistic Structure
Chapter 12: Glossary of magic Questions
Conclusion

Online Courses

Download Instantly.

New!
Dishonesty in Handwriting - Just released for the Brand New Handwriting Analysis Membership Site.

"Now, in just seconds, you can ABSOLUTELY spot a dishonest person without ever having to confront him in a bold-face lie... just look at their handwriting and they will never know you have the upper hand."

In this informative and well researched Special Report/Course (which also includes a mp3 class recording) the authors discuss strokes, traits, and combinations that a complete amateur can use and a 20-year veteran probably didn't already know. Much of these "traits" and "strokes" you might have seen before, but never knew they were connected to ethics or dishonesty.

Special $29 (add to cart)

Read about the course here !
(Click here for full product description)

Change Your Life
Adult Change Your Life In 30 Days Grapho-Therapy Workbook w/Instructional MP3.
PRICE: $ 24.95 (plus s/h)

Add Adult Grapho-Therapy Workbook & MP3 To Cart
***Adult book has been redesigned from inside and out. New versions are now shipping worldwide. If you do not have this cover on your book in your local campus, please report your distributor to our worldwide headquarters so he/ she can get current on the versions.
Click Here to Learn More About the Adult Graphotherapy Workbook
---
Kids Change Your Life In 30 Days Grapho-Therapy Workbook w/Instructional MP3.
Change Your Handwriting, Change Your Life for Kids. Reg...$29.95

PRICE: $ 19.95 (plus s/h)

.


Click here to order the Kids workbook
& Audio MP3

This book recommended for kids ages 4- 11 instead of the adult workbook because the middle zone lines are larger and the questions are simple. The adult workbook is a journal with college rule lines and sophistated questions.

Teacher/ Kids Kit
(Click here to read about the Kid's Workbook & Audio

MP3 Download and Special Teachers/Kid's Course)

*Order extra kids book at this discounted price of $17.50 as part of the Teacher's Kit. This is the best value. Save Over $30 if bought seperately. We recommend you order a Grapho-Deck with this course to easier explain the concepts to the children.
---
---
Signature Makeover - Change Your Signature, Change your life --
Recorded with Australia's #1 Handwriting Expert

This new "autograph" course is a breakthrough from two of the world's leading handwriting experts from Australia and America. Discover slight changes in your signature, that can change your life.
Plus, this course is entirely downloadable, so you can get started right now!
Retail Price: $127
Your Online Digital Price: Just $37 (discounted price)
(Click here for full product description and view a sample flash video)
Offline Retail Price: $127.

Now just $37.00 online (This is online instant access.)


Add Change Your Signature Online Course To My Cart
---
Book – Handwriting Analysis Secrets to Finding Fulfilling & Loving Relationships (also titled: Secrets to Making Love Happen - Mastering Your Relationships Using Handwriting Analysis & NLP)
304-page relationships book by Bart Baggett.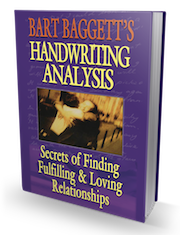 This is the most comprehensive handwriting/NLP book available, designed for a person to easily utilize these tools to improve their relationships or find their perfect mate. Includes a complete trait dictionary and lists the 10 hell traits. A classic, which is now sold in 17 countries, including China!
(Click here for full book description and read three free chapters)
PRICE: $15.95 $10.00 304-page PDF version, too.
PDF version is available. The soft cover is no longer in print. It is being re-written for the 20th anniverssary re-release.

Or Buy downloadable PDF only $10.00 - download book using PDF Adobe Acrobat Reader.
Instant delivery just $10. Buy PDF version now.