A few good reasons you should not date Danny...
and why you should always analyze the handwriting before the first date.
-by Bart Baggett,
Author of the best selling book Handwriting Analysis Secrets of Love, Sex and Relationships - How to find, choose, and attract your perfect mate.
304 pages. Order on-line.
A close friend of mine picked Danny out of 52 possible dates last week from the America Online profiles dating pool. He liked to dance, had a way with words, and seemed to have it all together. In her prudence, she had Danny fax a full page written letter to be analyzed before she accepted the date. Good move. She saved herself heart-ache and possible injury. Danny is not the most stable man in the AOL dating club and he doesn't have a date with my friend.
Fear of success downward y-loops

Wide variety of m and n shapes ... this makes me wonder about drug use or a general lack of emotional stability

High crossed t-bar = Good confidence & ambition

Downward t-bar w/ point = control issues = domineering.

Lying loops = shades the truth... will lie to your face.

Excessive angles in the middle and lower zone = aggression

Capital (personal pronoun) "I" that is pulled to the left = emotional withdrawal and unresolved emotional issues related to parents (often this person has needy issues relating to his mother)
Listen to Bart's full analysis
https://s3.amazonaws.com/instantaudiofiles/danny_review_dating.m4
ONE of THREE samples shown for DANNY the AOL date.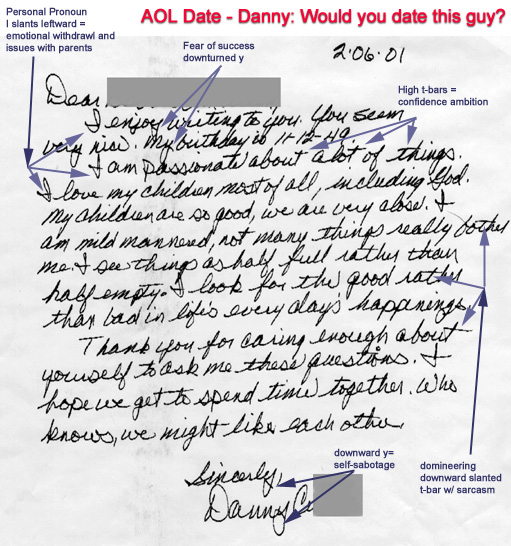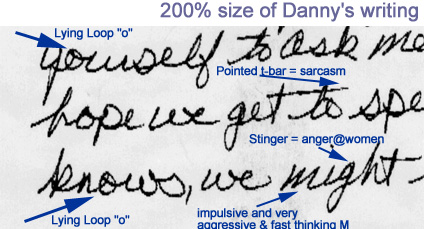 Sample 2 - notice the weird, mal-shaped m and n humps...this bothers me.

Remember that you can learn all this and more when you enroll into our Handwriting University Home Study Course.
http://www.myhandwriting.com/learn
Five Free Special Report available here: