---
Book – Success Secrets of the Rich and Happy by Bart Baggett --
New! Bart Baggett's latest book reveals the psychological "Success Secrets of the Rich and Happy." It is available now in INSTANT DOWNLOAD from anywhere in the world with no shipping.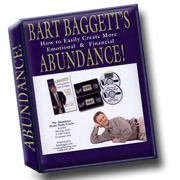 Read what others are saying now. This will be the most important book you read all year! Only $19.99 and includes a free audio bonus. Over 435 pages of NLP, handwriting, psychology, financial strategy, and so much more. Because this is an Instant download, you will be asked to check out on a special secure page. For more details, read all about it here, or get the entire "Live Seminar" Program Home Study Course.

This book is currently NOT available in local bookstores. You can order the paperback, the PDF version, both, or the Live Seminar Audio Program. If you order the PDF version, you can be reading it in the next 10 minutes (print it out or read it on-line).
Add Rich and Happy Book to my order.
---
Book – Handwriting Analysis Secrets of Love, Sex, and Relationships (also titled: Secrets to Making Love Happen - Mastering Your Relationships Using Handwriting Analysis & NLP)
304-page relationships book by Bart Baggett.

This is the most comprehensive handwriting/NLP book available, designed for a person to easily utilize these tools to improve their relationships or find their perfect mate. Includes a complete trait dictionary and lists the 10 hell traits. A classic, which is now sold in 17 countries, including China!
(Click here for full book description and read three free chapters)
PRICE: $15.95 for 304-page soft cover book and instant PDF version, too.
(plus s/h) Buy book now $15.95.

Or Buy downloadable PDF only $10 - download book using PDF Adobe Acrobat Reader. Instant delivery just $10. Buy PDF version now.

---
Grapho-Deck Handwriting Flash Cards ALL TIME BEST SELLERS!


51 Easy-to-use instructional flash cards with separate personality traits illustrated on each card. Fun, simple, accurate and portable. This is Bart Baggett's all time best seller! Each deck of cards comes with a 40+ page instruction manual as a special bonus! This is a perfect companion to the Change Your Life Workbooks or the Success Secrets of the Rich and Happy.
(Click here for full product description)
PRICE: $15.95 each or 2 decks for $22.00 (See option when you check-out)
(plus s/h)

Add Grapho-Deck to Shopping Cart
---
Double Your Income


Use hypnosis to increase your abundance thinking. You already know your thoughts are the basis of your reality and your goals achievement. This unique CD course uses time-line, NLP, and hypnosis to change your beliefs and find ways to double your income. Awesome program. Just $49.95. Co-written by Bart Baggett.
Double Your Income with Hypnosis
PRICE: $49.95
---