LOVE AND SEX EDITION Part 1

Here are the files currently online for your listening pleasure, education, and entertainment. The average listening time will be about eight minutes. Some longer, some shorter.

The files will not always go in sequence and not always be from the same seminar or tape series. If you want full, comprehensive training, you will want to join the program as an official student by visiting our shopping cart or catalog page.

You can now learn handwriting analysis from the comfort of your own computer via your own speakers or headphones. This is a free bonus for being subscribers to our Weekly Strokes newsletter. Watch your e-mail for future editions.
Certification Level Seminar, Love, Sex, and Relationships PART TWO, file continued.

Click here to see the handwriting sample the audio is referring to.

Certification Level Seminar, Criminal Minds. Serial Killers and other evil people.

Click here to see the handwriting sample the audio is referring to.

Certification Level Seminar, Part 14, How to Earn $100 per hour or more marketing your skills.
Listening to these files is like you are
in the front row of the live seminar.

These are portions of the actual recordings of the programs we ship worldwide as part of our home study courses.
If you like what you hear, consider investing into your own set of our basic or advanced programs.
You will want to own the handouts and follow along with the handwriting samples by using your own at-home course, CDs, binders, handouts, and DVDs.
Want to enroll? Call Handwriting University at
1-310-684-3489 .
Handwriting University has some unpublished bonuses for
enrolling into the new video home study course
that expire soon. Call our office and ask about the Certification Course Specials.
Ask for Brenda.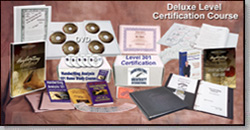 The Audio CD's are part of the new handwriting home study course.
You also get to see all the action using the 14 sections on DVD or VHS
(your choice)
Listen to what others say about the seminar and home study course.